Crushpix is a video production company that takes pride in creating interesting and informative video interviews. There is nothing more compelling than hearing first hand from a senior manager about what's coming next for your organization; an eye witness telling the story they lived; or hearing a testimonial from one of your clients that validates the experience of working with your team or the quality of your products.

We're here to help make your video production a complete success. Can we help you put the interview questions together? Do you have a pretty good idea of what you're hoping your interviewee will say in the interview? We can help you focus on the questions that will deliver the answers and the message that you have in mind.

Would you like to conduct an interview with someone who is in San Jose but you're in San Francisco and can't get out to their offices for the interview? We can set up a virtual video interview.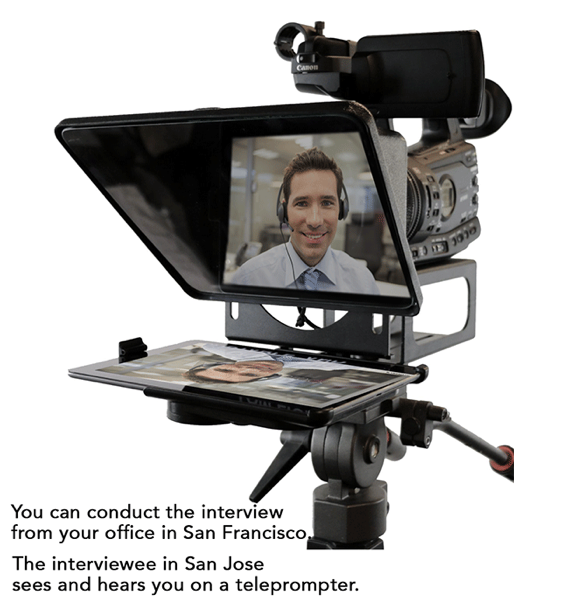 With Skype or FaceTime, we can bring you right into their office to speak face to face but it will look like the interviewee is speaking right into the camera.

However, a live interview with both people in the same room is always preferable. When possible, we like to scout the location of the interview in advance to determine the best areas for shooting, interference we may have with other people working, possible noise, find a pleasing background to shoot your video against, evaluate the lighting and power options, etc.

We'll also discuss with you how many cameras and camera operators you'd like to have. Having multiple cameras keeps the interview visually interesting as well allows flexibility to edit what people are saying while they are speaking, by cutting from one camera to the other to hide the fact that something may have been removed or rearranged in the process.
Using B-roll in your Video Interview
We will normally also shoot B-roll. B- roll is the footage of the office, coworkers, the product, or other images that relate to what the interviewee is talking about. B-roll also provides opportunities to reconstruct the audio if necessary, since you aren't seeing the person speak.

Sometimes the interviewee just doesn't get their sentence out succinctly enough for audiences that have short attention spans. You want to be able to edit the essential words together into one sentence.

To make sure the interviewee feels as comfortable as possible prior to the interview or testimonial video shoot, we let you know what clothing is appropriate for the shoot, we'll encourage you to share either the nature of the questions for the interview if not the questions themselves so that the interviewee can start thinking of responses. However, we don't want them to memorize anything. We always recommend encouraging as natural and authentic responses as possible.

We will review all the specifics of the shoot in advance of the interview or testimonial to make sure everyone is comfortable and knows what to expect.

We offer creative video production services to help you promote your product.

Crushpix is a San Francisco Bay Area video production company.
This first sample is one of five videos that Crushpix produced for Google to play in their booth at a National Supplier Diversity Summit. It features interviews we shot around the country as well as b-roll. Crew included a producer/director/camera man, a second camera operator, and two local crew members in each location.
Actor Peter Coyote, video taped at his home in Tiburon, for the rerelease of the film, "Southern Comfort." Two cameras and a two-person crew.