Considerations When Choosing A Video Production Company
Search "San Francisco Video Production" and you'll find a lot of great video production companies in the San Francisco Bay Area. Now what?
Adding a promotional video to your website is an investment in your company. There's a fair amount of money involved, so choosing the right video production company to present your products or services should be taken a bit methodically. Don't be afraid to ask multiple companies to give you estimates and proposals. It's a no-obligation introduction to some of the people you may be dealing with over the duration of the project, so get to know them to see if they're someone you'd like to work with.

If this is your first time working with a video production company, you'll have questions. Don't worry. The producers you'll be talking to are here to serve, so ask away.

Each video production is customized to the project's needs and budget. You'll be presented with several options to choose from and each comes with a price tag.

It's very helpful to have a budget in mind when you start interviewing prospective video vendors. Most companies are not going to have a standard rate that looks like NUMBER OF MINUTES X RATE = COST. Many video production companies can do everything from a one-person testimonial video to a large-budget TV commercial. You should have a general idea of the amount you are comfortable spending.

For example, if one person in your organization does training on a regular basis and she's being flown around the country to deliver instructions, creating a video training program may offer a real cost savings. Having a local instructor teach using the video to provide continuity of the information might equate to money saved in flights and hotels that can offset the cost of the video. So, knowing that your video will actually generate additional income for your company may affect your anticipated spend.

Proposals are a balancing act on both sides. Knowing you are prepared to pay $2500 or $250,000 or somewhere in between will help the production company list out services they can propose in that price range.

And even better is establishing a relationship with a video producer who understands your needs and is willing to be flexible according to your needs from project to project.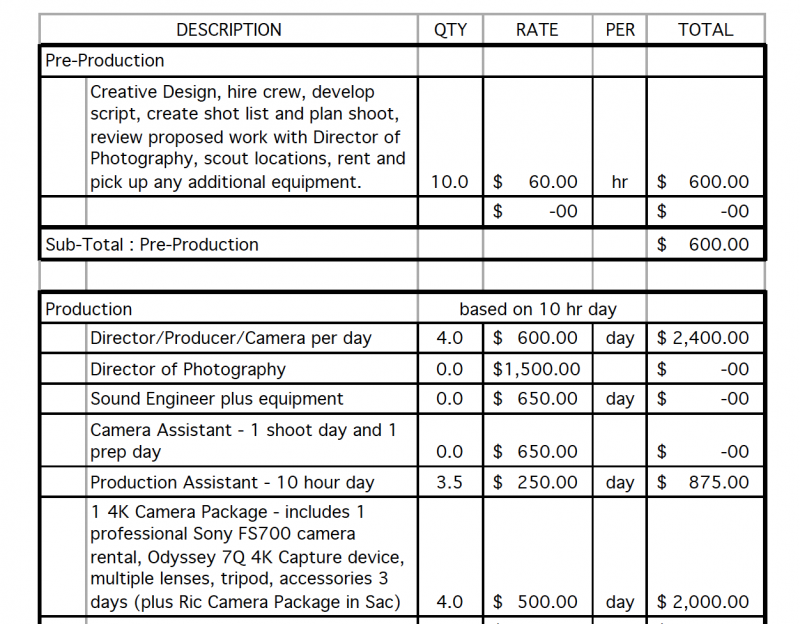 When you compare competitive bids, rather than looking at the final estimate, take a look at all the components that add up to the bottom line and ask the production company questions when you are not sure why so much is allotted to a particular item or if you wonder whether you really need to pay for a makeup artist, a hair dresser, and a wardrobe person.

A budget is an educated guess based on what the production company thinks are your expectations. A producer will normally put quite a bit of time and thought into a proposal and will be more than happy to discuss the choices they made in your budget proposal.

As you review each production company's proposal, you'll be able to compare the choices they made in assembling an affordable and competitive package that is tailored specifically for you.
What can a corporate video do for you?
A well-produced professional video is an incredibly powerful tool that can help you convert visitors into inquiries and sales.
Crushpix Video Production Company
We provide end-to-end video production services for companies in the entire San Francisco Bay Area for corporate, marketing, instructional, event, sizzle, and television commercials. We are proud to provide video production services including script development, video and audio production crews, and editing. We are an award-winning video production company that is grateful to several large corporations who have hired us over the years such as Google, PayPal, Kaiser Permanente, and The Clorox Company as well as many smaller businesses and startups. We are happy to tailor any production to meet your budget.

Crushpix is an Emeryville, California-based company that serves clients in the San Francisco Bay Area, East Bay, Silicon Valley, San Jose, the Napa Valley and North Bay Area. Our objective is to produce great video content that will show your customers what makes you the best at what you do.
We produce online video for the web in the San Francisco Bay Area
Contact us for a free consultation or quote and we will help you create a compelling web video that enhances your brand and your website.