Live Event and Trade Show Videos
Samples of Live Event videos captured in the Bay Area, San Francisco and San Jose
Samples from recent trade shows and events
Considerations for Video Coverage of a Live Event or Trade Show
When you host or speak at a live event, consider contacting Crushpix Video Production Company to document the event or your presentation. A video record of the event helps maximize the benefits from all the hard work that goes into organizing the event by extending its life.
A video can be a great investment that can benefit the entire community you are connected to.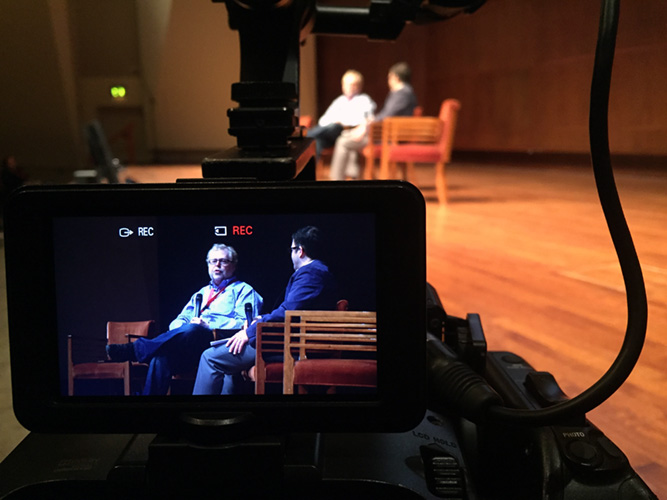 Live event coverage of 2016 Smart Kitchens Summit in Seattle, Washington. We partnered with Upstart Media to provide three camera coverage of the event.
What do you need to do and what's it going to cost?
f you don't want to shoot it yourself, Crushpix Video Production Company gives you peace of mind during the event when you'll probably have a million other things to think about. We capture the best video and audio possible, edit it all together into an easily consumable package, deliver it in the format that's optimized for your chosen service such as YouTube or Vimeo, and do so at a competitive rate.

Our budgets are a combination of labor and equipment needed to do the job. You can choose between hiring multiple videographers shooting from several angles with several cameras as in a TED Talk, or just one camera. You also choose whether you want to edit the footage together yourself or ask a video editor to do it at an hourly rate.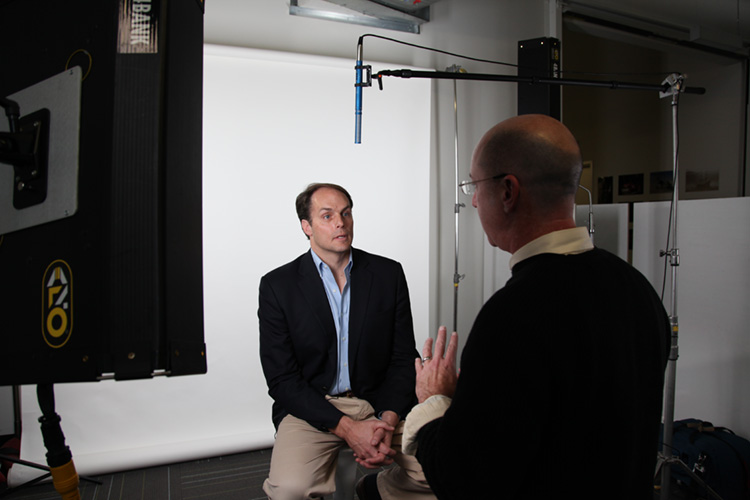 As the name implies, multiple cameras and videographers are used in this approach. Why do you need multiple cameras? For one thing, take a look at any tv show or movie and you'll see that every couple of seconds, you're looking at the scene from a new perspective. This helps keep the viewer engaged, especially when there's only one person presenting. It's the way we view the world. Rarely is someone in a live audience transfixed on the speaker. Often, we glance at those around us, at our mobile phone, at other things or people who are onstage and around the room.

A multi-camera shoot includes a videographer with a wide shot that includes the whole stage, a closeup shot of the person speaking in that moment, and often a cameraman roaming around shooting people in the audience as well as grabbing another perspective of the people on stage.

Additionally, if a PowerPoint or Keynote presentation or a live demonstration are projected from a laptop, a camera devoted to capturing the screen is running. Even if we replace the slides with clean versions of the images from the PowerPoint deck, the editor will need to have some a record of the live event to see where the slides go in the presentation.

Finally, having multiple cameras gives the editor more options. If one angle isn't working, there are others to choose from. Also, it's easier to seamlessly cut the talk down to the desired length.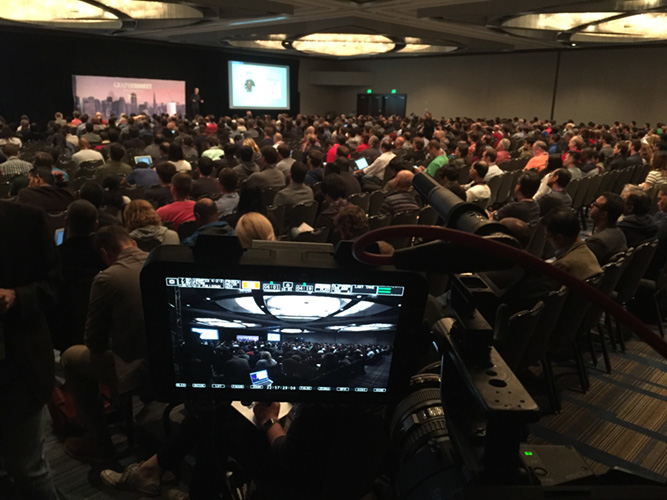 San Francisco Expo Graph Connect. Videography of the event in partnership with Upstart Media.
Shooting with one camera and one videographer is the most economical way to go. One way to add a little more interest to the video is to use the slides from the presentation as a second image. But again, it's usually best to have a second camera (that's stationary and doesn't need a dedicated operator) to have a reference as to where the slides go.

You may find that if you are under a very tight budget that with a good tripod and camera, you may be able to document the event yourself and save some cash. If the speaker will remain stationary at a podium, you may not need a camera operator. However, if they move around the stage, you will need someone who can follow the speaker with the camera.

Since audio is half the experience of a video, if you're able to record the audio from the mixing board at the event, you will end up with much better results than relying on the microphone on the camera.
For post-production, editing fees are charged at an hourly rate. If one camera is used and you'd like little to no editing, then the editing costs will likewise be very low. With multiple cameras, there is more time involved in syncing up the various cameras as well as choosing which shots to use, color correcting to make sure all cameras match, etc, so the number of hours required will be greater.

Graphics and animation are also elements to consider. Many times, costs can be minimized by using existing templates for graphic animation in After Effects rather than creating these elements from scratch. Especially when assembling an exciting sizzle reel with elements from the whole conference, adding dazzling graphics takes your videos and the event itself to the next level.

Since the sizzle reel is often a centerpiece enticing people to attend the following year's conference, you'll be motivated to make this promotional video as appealing as possible.
There are many potential elements to choose from when selecting a video production company to cover your live event. The video producers at Crushpix are happy to make recommendations accompanied with estimates to help you make the best choices for your next video. Please
contact us
to discuss your options. We are here to help you make the most informed choices possible.